Brian Tracy Says...


"Jack Canfield is one of the most insightful speakers and teachers in the world today. After you have spent time with him, internalizing his ideas and insights, you will be changed in a positive way for the rest of your life."

- Brian Tracy, author of Million Dollar Habits, and The Traits of Champions

Rhonda Byrne, Executive Producer of The Secret Says...


"In creating the film The Secret, I studied the teachings of the greatest men and women in history. Jack Canfield stands among these greats as being one of the finest teachers on the planet today. His clarity and ability to reach all people with his words, is reflected in the many lives he has touched and inspired over so many years."

- Rhonda Byrne, Executive Producer of The Secret

All the Key Elements of a Successful Life, Together in One Place


"Jack Canfield is a true master. He understands what it takes to lead a successful life, and in The Success Principleshe puts all the key elements together in one place for the rest of the world to see."

- T. Harv Eker, author of Secrets of the Millionaire Mind

Get Ready for Some Changes!


"The Success Principles will inspire and empower you to lead a more fulfilling life. Get ready for some changes...!"

- Kathy Smith, a leading force in American fitness and wellness

Michael E. Gerber Says...

"Jack Canfield is a Master of his medium, giving people who are hungry for more life the wisdom, insights, understanding, and inspiration they need to achieve it."

- Michael E. Gerber, author of The E-Myth book series

Hyrum Smith Says...


"By bringing your actions in line with Jack's core principles and values you can achieve any success you seek, including inner peace."


- Hyrum Smith, Vice chairman and founder of Franklin-Covey

Masterfully Explains the Specific, Step-by-Step Formulas for Success


"Canfield and Switzer explain the specific, step-by-step formulas all of us can use to achieve more success in our careers and personal lives. If making more money, playing a bigger game, and achieving your dream lifestyle are what you want, The Success Principles delivers it masterfully."

- Gay Hendricks, Ph.D., author of Conscious Living and coauthor (with Dr. Kathlyn Hendricks) of Conscious Loving

These Principles have Accelerated His Success, and the People He Trains and Manages at the Henry Ford Museum


"I have been a student of Jack Canfield for over a decade and have used the principles he teaches to accelerate my own success and the success of the people I train and manage at the Henry Ford Museum."

- Jim Van Bochove, director of workforce development at The Henry Ford: America's Greatest History Attraction

At All Levels, There is New Confidence and Commitment


"At all levels, there is new confidence and commitment. District and Branch managers and their staffs are taking risks, making decisions, pushing through fears, asking for what they need, and are working better as a team."

- Elliott Brown, Regional Vice President, Citicorp

Business Skills and Interactions are Enhanced, and Personal Life is Opening Widely Too


"I'm making major changes in all areas of my life as a direct result of the skills I learned. The safe environment you created allowed me to stretch in ways I never would have thought possible. My business skills and interactions are enhanced... and my personal life is opening widely."


- Linda Claire, Director, International Admin Neutrogena Corporation

Major Factor in an Attitude Upswing within His Reporting People


"[Your program] may well have been one major factor in an attitude upswing within my reporting people. Nine out of ten have participated in the program in the past eighteen months."

- Abbot Knowles. Manager, New England Telephone

Utilize 20 of The World's Most Powerful Success Principles, All In One Place, and Broken Down Into Easy "How To Apply" Action Steps…
The Canfield E-Coach Course Makes Mastering
The Success Principles Easier and Faster Than Ever...
It's Just Like Having Me as Your Personal Tutor!
Dear Achiever:
Have you read a ton of books, listened to audio programs, and taken seminars full of great information, but still not been able to implement the information? Maybe you're not certain where to start when it comes to making the major changes in your life you'd like to?

If the answer is yes, I think you'll be interested in my Canfield E-Coach Course.

It's my latest on-line program derived from my bestselling book, The Success Principles: How to Get From Where You Are to Where You Want to Be.

These principles are so universal that they will help you achieve anything you want – whether it's to be the top salesperson in your company, become a leading architect, score straight A's in school, lose weight, buy your dream home, or make millions of dollars. No matter what your goal is, The Success Principles will work for you, if you work the principles.

And now you can utilize 20 of the most powerful principles, all in one place, and broken down into easy "how to apply" action steps!

By using multi-media learning modules, the Canfield E-Coach course coaches you through 20 of the most essential Success Principles, and then provides you with step-by-step action plans for implementing them in your life.

I have to tell you, I'm really excited about your potential with this program. It's because I know that if you use and apply the lessons I've included in this course, your chances of success are HUGE!


Here's just a sample of what we'll work on together...

| | |
| --- | --- |
| | Where to start on your journey to a more successful life (you'll find the answer in Lesson 1). |
| | How to stay focused on your goals, when everyday stresses at work and home take away your best time and energy (you'll find the solution in Lesson 5). |
| | How to prepare for an opportunity that would skyrocket your success (you could use strategies and plans we create in Lesson 9). |
| | How to have fun and fulfillment in virtually everything you do (you'll find Lesson 3 helpful). |
| | How to delegate the work activities that rob you of your time... and what's the best leverage of your time and talent (you'd find Lesson 14 helpful). |
| | How you can make yourself most important when it comes to managing your money (you'll find the answer and learn new money-management strategies in Lesson 20). |
| | PLUS 14 more lessons that can easily help you catapult yourself to the pinnacle of your career... stay on track with your life's goals... achieve more, faster... attract greater opportunity into your life... enjoy more vibrant relationships... have more free time... be more productive... build a better team at the office... and realize all your potential. |
As you can see, The Canfield E-Coach online course is all encompassing and when you complete each lesson, you'll become a master at defining you're life purpose, planning for success, assembling a team so others can help you, and taking action on any goal.
The Canfield E-Coach Course includes a copy of The Success Principles book, and provides you with 20 detailed lessons that are delivered directly to your email in-box!







Every other week, you'll have access to a new interactive lesson, step-by-step action plan for each Success Principle, video clips, audio coaching, demonstrations and additional features to help you take your life to the next level by keeping you focused on applying the information.

One of the benefits of this course is that you can access it from anywhere! So, if you're on a business trip, taking a vacation, or just want to work at your local coffee shop, you can access your program from any computer that has internet access.
Take a Look at What You'll Find in Each Lesson:
1.) AN OVERVIEW of the main principle in that lesson; this is a synopsis of what the lesson will cover and why it is going to help you on your way to becoming more successful in your personal and professional life.
2.) Next we'll go through my SUCCESS SECRETS. This is a checklist of what you will take away from this lesson in order to make this principle a permanent part of your life.
3.) Then I am going to ask you to TAKE ACTION and apply what we've just gone over. I've even provided examples of what others are doing if you feel stuck.
4.) A helpful VIDEO GUIDE provides you a personal video message from me pertaining to the current lesson. This is like having me coach you right by your side!
5.) SUCCESS IN ACTION contains an inspirational story about people who started out just like me and you, and were able to implement these very ideas, to become extremely successful.
6.) I've also included some of my favorite quotes. I refer to this section as WORDS OF WISDOM. It's a quick reference and motivational tool to each particular lesson.
7.) In the next section, PRACTICE MAKES PERMANENT, I'll coach you on what to do in order to make the lesson or principle a source of success in your life. This will include writing prompts and examples for you to see how others have implemented this principle in their life.
8.) Lastly, you are going to be given some added HOMEWORK AND RESOURCES. I've hand picked articles and websites which are going to cement the ideas we've gone through in the lesson. Because I truly believe that repetition is the key to success, I ask that you review specific chapters from The Success Principles that pertain to the chapters you're working on (again, the book is included with the course).

PLUS, to keep you on-track with the course, you'll receive weekly email reminders to take your next lesson and complete necessary homework assignments, which will help keep you accountable and up-to-speed with the course.
Imagine six months from now, you'll have The Success Principles fresh in your mind and ready to be applied to any challenge life may send your way! Simply put, this product will help you turn your new knowledge into hard-core action!

Frankly, it's the most comprehensive and effective online course you'll ever find on personal success.

Normally you'd expect a comprehensive program like this to cost hundreds of dollars or more—but I want to make mastering The Success Principles and The Canfield E-Coach accessible to as many people as possible. Therefore, I've decided that I should make tuition as low as possible, so I've arranged for you to enroll in The Canfield E-Coach course right now for only $129!

That's less than $7 per lesson!

Frankly, at that low price and considering everything you get (as well as what it will do for you—for the rest of your life), you'd have to be crazy to pass it up.
My 100% Iron-Clad Guarantee:


Go ahead and enroll in The Canfield E-Coach. Start benefiting from the lessons. And if in the first 30 days, you feel it's not for you, simply let us know. We'll immediately cancel your enrollment and issue you a full refund.
So, if you are looking to create more success in your life, whether it's personal success, or professional success, please give my Canfield E-Coach online course a try. It's easy to enroll and you can get started today! You'll be glad you did!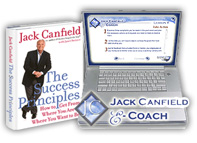 The Canfield E-Coach Online Course, $129.00
20 Lessons with The Success Prinicples book